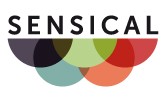 Updated brand signals Sensical's renewed focus on customer-focused information technology solutions.
Today at Sensical we unveiled our new website and corporate brand – including a vibrant new logo that reflects the company's successful evolution into a highly differentiated, client-focused company. The updated brand is the result of an intensive design and creative process and will appear across all customer experience platforms as well as all advertising and social media. Our new branding will be used in all customer engagement going forward, including events and on the newly transformed sensical.net website. 
Stephen Balogun, Marketing Manager at Sensical, said "We're launching Sensical's new brand identity today which more closely aligns with our business plan, our products and services, our dynamic team, our technology partners and our commitment to our customers.  The timing is perfect as we grow and extend our business and consultancy services.  The new brand identity reflects the evolution that Sensical has undergone and is reflective of the momentum we are seeing."
Sensical Services Ltd, trading as Sensical.net, was founded in the U.K. in 2002 originally as a web and email hosting business and quickly grew into hosted servers and colocation. We expanded our product range in line with the market changes and customer demand to provide a complete range of information technology products from domain names to telephony systems.
In the late 2000s, Sensical transitioned from providing products to focusing on managed services; recognising the demand from our clients to provide advice, implementation and support services throughout the Information Technology lifecycle.
Today we provide a comprehensive range of expert consultancy and managed services to UK and international organisations ranging from cloud computing, communications and managed networking services.
We are a nimble, responsive and accredited organisation with clients across government, media, legal, charity and service sectors. Our continued growth has come from an unwavering drive to meet the customers' needs and a steadfast belief in the values of simplicity, practicality and quality. We continue to develop, refine and adapt in the exciting and fast-paced technology industry and our new brand identity reflects this.