Originally founded in 2002 as a web-hosting and domain registration business. At Sensical we have since expanded our product range to include Networking, Hosting, Cloud and Co-Location offerings. Always adapting with our customers' needs we have widened our range of products to include a variety of information technology services which include Vidyo.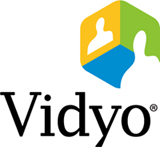 A Global Leader in Video Collaboration.
Vidyo is changing the way people connect. We have moved the business model for video conferencing beyond expensive legacy hardware and dedicated networks. We offer a powerful, flexible and scalable software-based solution that is also affordable. Easy to use and manage, Vidyo™ technology innovations put HD-quality, multi-point video communications within reach of anyone using any device, anywhere. All that's needed is an Internet, LTE or 4G connection to join in a lifelike and truly collaborative meeting experience. Today, Vidyo products power new workflow applications in areas such as Government, Healthcare, Finance and Education that close information gaps and boost productivity.
More information available on https://www.sensical.net/video-conferencing
Our partnership with Vidyo means that we are best placed to:
Transform desktop PCs, laptops, Android or Apple smartphones or tablets into a virtual meeting place so you can collaborate with others from wherever you are
Offer you a solution that is compatible with any existing video conferencing solutions in your company including Microsoft Lync
Introduce you to adaptive technology dynamically adjusts to network conditions and device utilisation so all participants benefit from natural, face-to-face communication without broken images or delay
Internal & external – conference and collaborate with your suppliers and customers for no extra charge
Interested in hearing more? Contact our sales team on sales@sensical.net for more information